What is Plasterboard?
Plasterboard consists of calcium sulfate dihydrate (gypsum) usually pressed between a facer and a backer. Walls are constructed from it and interior doors are also made from it. Plaster board is primarily used for partitioning, lining walls, and constructing ceilings in any type of building, from schools and hospitals to schools, shops, and residences. External sheathing can also be achieved with newer, more innovative drywall products.
The rise of plasterboard began during the end of the 1910s and throughout the 1920s. The use of drywall tape is a good way to finish off a wall although wet plastering is quite common in the building industry.
Types of plasterboard
The best plasterboard fixings will depend on the plasterboard you choose. Plasterboard fixings are used to hold drywall in place.
Water Resistant Plasterboard
In bathrooms and kitchens, moisture-resistant boards should be used. The external soffits of your house might also be installed with this type of plasterboard.
To prevent moisture accumulation on the wall, water-resistant drywall contains additives. In the core of the plasterboard, these additives are found.
A bathroom or kitchen installed with the wrong type of plasterboard could be vulnerable to water damage. As a result, the drywall could weaken and deteriorate over time.
Insulated Plasterboard
Thermal plasterboard or insulated plasterboard is a popular type of drywall. Designed to prevent heat from escaping. A plasterboard can keep heat in by being attached to a thermal insulation board.
Combined, they form insulation plasterboard. Using insulated plasterboard to insulate your walls can also save you money.
Acoustic Plasterboard
A plasterboard that minimises sound transmission between rooms is called acoustic plasterboard. Often, this type of soundproof plasterboard is denser than most drywalls. In a given room, it reduces noise.
Sound travels through a ceiling and walls less effectively when the ceiling and walls are made of acoustic plasterboard. The thickness is 12.55mm. Reinforcing it with soundproof materials such as mineral wool or fiberglass can improve its sound insulation capability even more.
Fire Resistant Plasterboard
Fire-retardant plasterboard has a fire-resistance rating that changes depending on which product you choose.
There are many types of fire-resistant plasterboard, some of which are completely fireproof while others are resistant to catching fire for several hours. Plasterboard that is fire resistant should have a minimum resistance time of 30 minutes to 2 hours.
Fireproofing is achieved through the use of glass fibers and other additives
Impact Resistant Plasterboard
Physical damage can be reduced or avoided by using impact resistant plasterboard. Due to its high density and the addition of various additives, its durability, strength, and load-bearing capacity are enhanced.
To determine the performance of such plasterboard, the British Standard BS 5234 is used. Based on these measures, you should look for impact-resistant plasterboard that has a high rating.
What is Drywall?
Drywall is a building material used for constructing interior walls and ceilings. It is made from gypsum plaster sandwiched between two sheets of heavy paper, making it a relatively lightweight and flexible material. It is another name for plasterboard. Drywall is a popular choice for wall covering due to its ease of installation, durability, and low cost. It can be easily cut to size and installed using screws or adhesive, making it ideal for use in residential and commercial construction projects. After installation, drywall is usually painted or wallpapered to match the décor of the room. Additionally, it can also be textured to provide a more decorative finish.
Drywall Installation
Drywall installation is a process that involves attaching panels of drywall to studs or joists in a wall or ceiling. Here is a basic outline of the steps involved in installing drywall:
Prepare the surface: Ensure that the wall or ceiling surface is smooth, clean, and free of debris. Any rough spots should be sanded down, and any holes or cracks should be filled in.
Measure and cut the drywall: Use a measuring tape and drywall saw to cut the drywall panels to the correct size for your wall or ceiling. Make sure to take into account any electrical boxes, light fixtures, or other obstructions.
Attach the drywall: Apply a bead of joint compound to the back of the drywall panel, then attach it to the wall or ceiling using screws or nails spaced about 12 inches apart. Make sure to drive the screws or nails just below the surface of the drywall so they can be easily covered up later.
Tape and mud the joints: Fill any gaps between the panels with joint compound, then use fiberglass mesh tape to reinforce the joint. Let the joint compound dry completely, then apply another layer over the tape. Sand the joint down until it is smooth.
Sand and finish: After the final layer of joint compound has dried, sand the entire wall or ceiling until it is smooth. This may require several rounds of sanding, depending on the size and number of joints. Once the sanding is complete, you can paint or wall paper the drywall as desired.
Note: Installing drywall is a labor-intensive process that requires proper tools and techniques, so it is recommended that it be performed by a skilled professional.
What is the difference between drywall and plasterboard?
Plasterboard, also known as drywall, is made up of gypsum mixed with water and spread between two large sheets of paper. Walls and ceilings are constructed with Drywall. The plasterboard is installed by lifting the pieces and attaching them to the wall studs.
How can you tell if a Wall is Plasterboard?
Plasterboard walls can have a wood or steel frame. In general, this runs vertically at regular intervals between 300 and 600mm, with short horizontals or "noggins" between each. Almost all plasterboard walls sound hollow and move a little bit when you knock on them.
How Thick is Plasterboard?
We will be discussing the thickness of plasterboard for this section. The thickness of plasterboard is generally 9.5mm or 12mm. Plasterboard is available in different thicknesses, however.
The use of thicker plasterboard can provide insulation, protect against damage or reduce noise transmission between rooms
It is possible for fireproof plasterboard to have a thickness of up to 15mm. The ideal thickness of plasterboard for the walls and ceilings of a room can also differ.
How Much Weight Can Plasterboard Take?
Plasterboard's load-bearing capacity should be considered before purchasing. We will discuss this and look at topics such as the weight that a nail in drywall can hold.
Most plasterboard walls can hold around 20kg/m2 of weight, although it varies depending on the type of plasterboard you buy.
That being said, it is possible to tile onto plasterboard but only if the plasterboard can handle the weight. Plasterboards made from certain materials will have greater strength.
According to their design, some plasterboard products can hold more weight than others. Additionally, the plasterboard's thickness and size will affect how well it supports loads.
What are plasterboard screws?
Black screws with countersunk, pozidriv heads are generally found in this category. Different lengths of screws should be used depending on the board thickness.
The screws should be 32mm long if the drywall is 9.5mm thick. If your drywall is 12.5mm thick, use screws 38mm long.
Screws used on plasterboard differ from other screws. Case-hardened steel is used and they are specifically designed for plasterboard construction.
How to Cut Plasterboard
The plasterboard is best cut with a plasterboard saw. A straight edge, Stanley knife, pencil, and measuring tape are required.
Wallboard saws can also be used as plasterboard cutters when cutting out shapes from the middle of a board.
Wearing cut-resistant gloves is a good choice of safety equipment. Mark carefully the line or lines you wish to cut on the plasterboard with a pencil and straight edge before commencing cutting. Then, if necessary, use a plasterboard plane or rasp to smooth out any imperfect cuts.
The plasterboard must be cut correctly in order to avoid drywall damage or to make a sufficiently thin cut.
The dot and dab method is a popular way to install drywall. Read our full guide on how to dot and dab plasterboard
Plasterboard is made of a sheet of Gypsum bonded in between a facer and a backer. It is designed to be used to create internal walls and ceilings that are ready to decorate with either plaster, paint or, wallpaper. Plasterboard comes in a range of sizes and each board is designed for specific applications.
Plasterboards are also known as wallboards, drywall, and panels or by colour such as pink board (Fire), Blue board (Sound), and Green board (Moisture). Plasterboards will help builders and designers meet building regulations for fire protection, acoustic insulation, and thermal efficiency. It can also help to control condensation and potential damage in areas of high humidity which will prevent mould in the long term.
What is squared edge plasterboard?
Squared edge drywall are Gyproc Panels with straight, flat edges, designed to be tightly butted with adjoining boards. Tape and skimming will be required at edges being careful not create a bulge in the surface.
If a square edge board is applied to a wall to achieve a finished smooth wall, the walls can end up with a raised area over each join where the boards have butted together after taping and skimming. However, if you are planning on skimming the walls with plaster anyway then there is no reason to use tapered edge. In fact, if you are plastering you want a flat surface to start from so a straight edge is preferred and at a lower cost. Square edge boards are also a great choice for ceilings.
Advantages Of Square Edge Plasterboard
Top product for constructing ceilings
Easy to install
Ready for direct decoration such as plaster, wallpaper, and paint
Disadvantages Of Square Edge Plasterboard
Requires skimming
Joints may be visible
What is tapered edge plasterboard?
Tapered edge plaster boards are Gyproc Panels with an edge that gently slops off at the edges. This board is specifically designed for wall applications. When joint with other boards it creates a dip that requires filling with compound. Once filled it created a smooth finish.
There is one main reason that tapered edge plasterboard exists, and that is dry lining. Dry lining is when no plaster has been applied to the walls and the plaster board is used to apply, paint and complete the walls instead. The tapered edge gives a much cleaner finish.
With the gap between the two sheets being tapered it slopes down and is levelled below the rest of the board. This allows room to tape the joint and add some jointing compound on top which will bring the join up to the same level as the rest of the wallboards, allowing for a seamless finish.
Advantages Of Tapered Edge Plasterboard
Top product for constructing walls
Provides a cleaner finish
Ready for direct decoration such as plaster, wallpaper, and paint
Disadvantages Of Tapered Edge Plasterboard
Not suitable for wall corners
Not suitable for ceilings
Filler required between boards
The difference between tapered edged and square edged boards?
Most boards come with the option of tapered edge (TE) or square edge (SE). Tapered edge is a more versatile and popular option and easier to install. Tapered edge boards are designed for a tape and joint finish for a seamless result, whilst square edge boards are best suited for a skimmed finish in areas such as ceilings. Some specialist boards are available with squared edge only or tapered edge only.
What are SE and TE plasterboards?
'SE' Plasterboard is a shortened term for a 'Squared Edge' plasterboard and 'TE' Plasterboard is a shortened term for a 'Tapered Edge' plasterboard.
How do I know whether to use square edge or tapered edge?
The ultimate question is are you going to skim plaster the walls or ceilings? If the answer is no than a tapered edge will achieve the smoothest finish. If the answer is yes, then it doesn't matter which board you choose as plaster will be skimmed over the top to create a smooth finish!
Can you paint straight onto plasterboard
Drywall should be primed before painting over it directly to create a better base for the paint. This is because drywall can absorb paint. That being said, you can paint directly onto plasterboard without skimming it. A sealer compound is always recommended on the board first as plasterboard is very absorbent. Diluted PVA is always a good and cheap alternative option. Once sealed and dry it can be painted directly.
How do you cut square edge and tapered edge plasterboard?
Square edge and tapered edge plasterboard can be cut by running and sharp knife down one side of the board, snapping over a hard surface and scoring the other side. A fine-toothed saw is also an option.
How To Install Plasterboard
Using the adhesive applicator, apply adhesive 'dabs' to the wall studs approximately 25mm wide and 15mm thick. Place adhesive daubs approximately 200mm apart and 200mm from sheet edges. A map or the plasterboard can be marked to ensure you applying adhesive in the correct places.
Put a couple of small offcuts of drywall on the floor against the wall, to allow a 10-millimetre gap at the bottom of the sheet.
Ensuring that the recessed edge side of the wall board sheet is facing OUT, position it horizontally across the studs and push firmly into position. Then place screws at each stud along the top edge.
Next place screws every 300mm along the ends of the sheet and around openings. Remove the offcuts before fastening the bottom edge of the sheet.
Make sure you countersink the screws just below the wall's surface so they can be filled later, taking care not to break the paper face. A counter-sinking drill bit attachment will prevent over screwing.
Hold the sheets against the adhesive for at least 24 hours – or 48 hours in cool conditions. Do this by fixing temporary blocks (small offcuts) through the board to every second wall stud.
Repeat the process for the next sheet, ensuring they are butted neatly together.
It is worth noting that drywall should be handled in the correct way to prevent body damage. You can find HSE's comprehensive guide to safely handling plasterboard for more information.
Can you tile on plasterboard?
If you're thinking about tiling your bathroom or kitchen, one of the questions that might be on your mind is, 'Can you tile onto plasterboard?' Plasterboard, also known as drywall or gypsum board, is a popular material used for interior walls and ceilings. It's a cost-effective, lightweight, and easy-to-install alternative to traditional plaster.
To answer the question – yes, it is suitable for tiling, however it is important to properly prepare the surface before placing tiles on plasterboard. It is also worth mentioning that plasterboard is not as strong as other materials such as concrete or cement board therefore it is important to ensure the tiles are secured properly. There are many reasons why you should tile plasterboard. Firstly, it is cost effective and easy to install. The lightweight nature of plasterboard means that it is easy to work with as well as cut. The downside is that drywall may have limited weight bearing capacity. It is important to check the weight of the tiles you use to calculate if the plasterboard can manage the load. In addition to this, it could crack easily when mishandled.
How to tile onto plasterboard
Before you begin, it is important to prepare the surface so that it is dry and clean. If there are any holes or cracks then you need to fill them with a joint compound and sand them smooth.
When tiling on plasterboard, use a waterproof adhesive and grout to prevent potential water damage. In addition to this, you should always allow the adhesive and grout to dry completely after use.
Below you can see a step by step guide for tiling onto plasterboard.
Prime the surface: Apply a primer to the plasterboard to create a strong bond between the tiles and the plasterboard.
Mark the middle: Use a chalk line to mark the middle of the wall or floor where you want to tile.
Lay out the tiles: Dry-fit the tiles to ensure they fit properly and make any necessary cuts with a tile cutter.
Apply adhesive: Use a notched trowel to apply adhesive to the surface. Only apply as much adhesive as you can tile in 15 minutes to prevent it from drying out.
Install the tiles: Press the tiles firmly into the adhesive, making sure they are level and evenly spaced.
Grout the tiles: Once the adhesive has dried, use a grout float to apply grout between the tiles.
Seal the grout: Finally, seal the grout with a silicone sealant to protect it from moisture and staining.
How to Fill in a Hole in Plasterboard?
Drywall may get damaged during construction. This can lead to holes in the board. Holes in drywall are not pleasing to the eye and could also compromise the integrity of the wall or ceiling. Below you can find information on how to fill in a hole in plaster board.
Before you fill a hole in drywall, you will need the following:
Drywall patch
Joint compound
Drywall tape
Sandpaper
Utility knife
Putty knife
Paint
When you begin, ensure that the hole is prepared. Use a utility knife to cut away any loose or frayed edges around the hole. Make sure the edges are smooth and even.
Next, measure the size of the hole and cut a piece of drywall patch that is slightly larger than the hole. Insert the patch into the hole and use a putty knife to press it firmly against the surrounding plasterboard. Use a putty knife to apply joint compound to the edges of the patch. Make sure the compound is evenly spread and covers the edges of the patch completely.
After you have done this, you need to cut a piece of drywall tape that is slightly longer than the length of the hole. Place the tape over the joint compound and press it firmly against the plaster board. Apply another layer of joint compound over the drywall tape, smoothing it out with a putty knife. Make sure the layer is thin and even. Allow the joint compound to dry completely. This can take several hours or overnight, depending on the thickness of the compound.
Once the compound is dry, use sandpaper to smooth out any bumps or rough patches on the surface. Wipe away any dust with a damp cloth.
Finally, apply paint to the surface to match the surrounding area. Allow the paint to dry completely before touching or adding a second coat.
Can you put plasterboard in a skip?
You should not dispose of plasterboard in a skip. It may seem convenient to dispose of your leftover plaster boards in a skip, however you may struggle to find a skip company that will accept this. This is because it falls within the hazardous waste category, which could pose safety concerns. If you have unused plasterboard, you may be better saving this for when you next need it or selling them locally. If storing them is an issue then there are ways you can safely dispose of it.
Plasterboards are classified as hazardous waste due to their high gypsum content, which poses a significant risk of putrefaction. When these sulfates come into contact with moisture and mix with other general waste, they generate hydrogen sulfide (H2S).
Hydrogen sulfide is a dense gas that accumulates in invisible pools in the environment. Although it is colourless, the unmistakable odour of rotten eggs is a telltale sign of its presence, and being around it can be extremely unpleasant.
Moreover, H2S is not only foul-smelling but also toxic, corrosive, and capable of causing burns or explosions. Therefore, it becomes hazardous when left unattended at construction sites or in landfills.
To safely dispose of plasterboard waste, it is crucial to take precautions. First, isolate and properly bag the waste. Keep it away from standing water and shield it from rain to minimise the risk of H2S formation. We recommend storing it covered and in a climate-controlled environment to prevent high humidity levels.
Your local council may be able to help you to safely get rid of plasterboard. This depends on where you are located. however some councils do offer collection services for items such as plasterboard. This is often offered in exchange of a small fee. If you deal with large quantities of plasterboard then it may be worth setting up a plasterboard recycling contract. Recycling companies are in need of gypsum based products as the material is valuable. Companies such as British Gypsum have their own service for contractors to recycle plasterboard.
It may be true that you cannot simply put your drywall in a skip, however there are plenty of recycling options available to you. This means that disposing of unused plasterboard does not need to be an inconvenience to you.
What is plaster
Plaster is a thick and sturdy composition that hardens as it dries. Plaster is one of the most used and oldest building methods, used for coating walls, ceilings, and partition walls. Plaster creates a smooth and level surface perfect for decorating and completing a space. Plaster can also be used to renovate older properties to add a modern touch and to build new properties.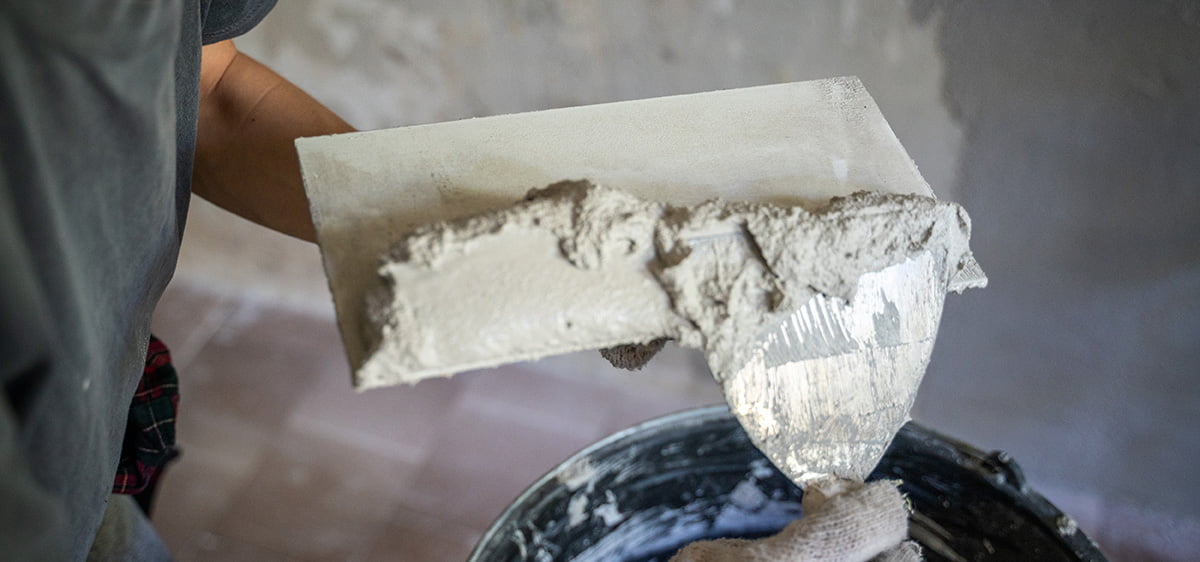 What Is Skimming?
Skimming means applying a thin coat of finishing plaster to plasterboard fixed to the existing walls or ceilings. Skimming creates a smooth finish ready for walls to be painted or decorated. Skimming can sometimes be an easier option than completely plastering a wall. It can also save money on the materials and time spent plastering the walls. It also dries faster than plaster and can be decorated quicker.
How to Skim Coat Plaster onto Plasterboard
You do not need to fully plaster onto plasterboard, instead you can just skim coat your plasterboard. Skim coating is the process in which you only apply a thin coat of plaster. The purpose of applying a skim coat onto plasterboard is to help give it a superior finish.
If you want to skim coat plaster onto plasterboard, then first begin by preparing your room and surfaces. Remove any furniture and lay down dust sheets to protect the floor. Before applying plaster, your plasterboard should be clean, dry, and firmly fixed.
If the plasterboard is particularly absorbent, you might need to prime it with a PVA adhesive or a plaster primer. We suggest you check out the manufacturers data sheets and instructions found on our product pages.
Mix the plaster until it reaches a thick, creamy consistency, free of lumps. Apply the plaster to the wall using a plasterer's hawk and trowel. Begin with a thin, even coat about 2mm thick, starting from the bottom and moving upwards in a sweeping motion. Use a corner trowel for the edges and corners. After the first coat is slightly firm, apply a second coat and aim for a final thickness of 2mm.
The next step is to smooth the plaster as it begins to firm up but before it's fully set. Use a clean, slightly wet trowel, applying gentle pressure and moving in sweeping arcs to achieve a smooth finish. Any imperfections or trowel marks should be worked out by smoothing over them until they disappear.
Finally, remember to clean your tools immediately after use to prevent plaster from setting on them. Getting a smooth finish with skim coating takes practice, so don't be discouraged if it takes a little time to master the technique.
How long does plaster take to dry?
Plaster takes a minimum of 3 days to dry and can take as long as 5 days to dry thoroughly. Plaster needs to be completely dry before further works can be carried out such as painting, decorating, or applying fixtures and fittings. Once it is dry the colour will change and display pale pink tones as opposed to brown patches.
If drywall has come into contact with water briefly, the damage may be minimal, and the boards may dry out naturally. However, if the water has had a chance to soak into the plasterboard then it may need replacing to prevent further damage to the property at a later time.
Depending on the water absorbed, it can take a minimum of two weeks to dry, however, in severe cases it could take up to four weeks. Ensure the leak is addressed directly to prevent wasting time in other areas.
What Is Over Boarding?
Over boarding is the method of applying new plasterboard over the top of the existing plastered wall or surface. If old plaster is becoming ineffective, applying plasterboard can be a cheaper option than removing the old plaster and replastering the walls or ceilings. In the case of an artexed or lath and plaster ceiling, new plasterboard would be installed over the top of the existing ceiling. When over boarding it is essential to locate and fix the plasterboards into the original ceiling or wall joists.
Why is plasterboard so cheap?
You may have noticed that plasterboard is low cost when compared to some other building materials. This is because the ingredients used to make drywall plasterboard are widely available. It also means manufacturing can be done on a bigger scale and mass produced. The ingredients themselves tend to be gypsum, recycled paper and water. These are low cost therefore the price of plasterboard can be driven down. In addition to this, we offer our best prices on plasterboard. We pass our savings directly onto the customer so everybody has access to trade prices – even if you are novice DIYer. This is why the drywall on our website is super low cost.
The low price of drywall can help keep construction costs to a minimal whilst keeping the wow factor as well as remaining safe. Plasterboard can also be combined with insulation to improve a buildings energy efficiency. We also sell insulated plasterboard, which is a 2-in-1 product that combines both PIR insulation with drywall.
Drywall is a popular choice due to its wide variety of applications. Installation is also simple and designed to be easy. It is suitable for decoration is commonly used to build partition walls to help make use of the space.
If you are looking for an inexpensive option for your project, then drywall is perfect. Join the thousands of happy customers and place your order in minutes.